Yesterday I was visiting the Open Source Expo Karlsruhe, a new, quite small conference, at which the guys from OpenStreetMap hat a booth. I was amazed by the progress of OpenStreetMap while I wasn't looking (which is just a few months, I guess); their level of detail in some places like Karlsruhe is astonishing.
Anyways, I got hooked and started to try out some of the tools and websites and finally, by tracing the Yahoo satellite image, added my first way to the map: A small footpath in Herrenberg that I know quite well: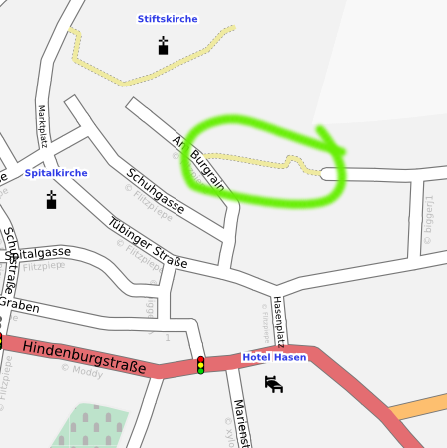 The live data can also be seen on the OpenStreetMap map, of course.
Unfortunately, there is not much to map around where I live in Karlsruhe, even the driveway to my dorm is included, but maybe I can do some proper mapping (with a GPS device) in Herrenberg someday.